15 May 2022
Hornets' ill-discipline proves costly in Keighley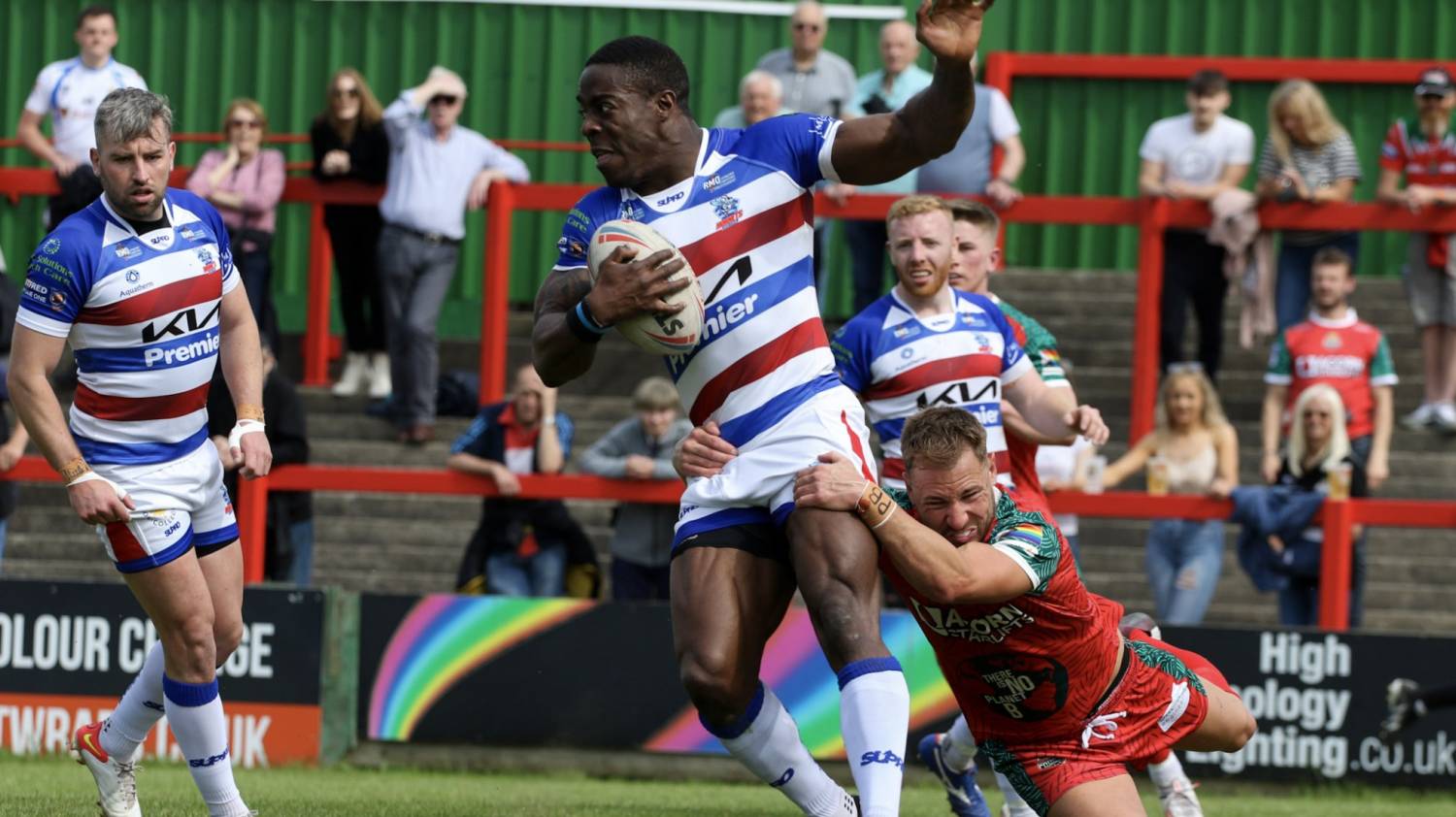 Rochdale Hornets were made to pay for two second half yellow cards as Keighley Cougars ran out 40-16 winners, on a difficult afternoon at Cougar Park.
After a tantalising first half, with little to separate the two teams, Cougars would run in four second half tries to inflict Hornets' first defeat since March.
The hosts were right at it from the outset with hooker James Feather crashing over, from dummy half, to move Rhys Lovegrove's side into an early lead.
However, Hornets responded well to going behind with new signings Jy Hitchcox and Rob Worrincy both testing the Cougars defence early on – and it wasn't long before the pressure told.
After being awarded back-to-back penalties Rochdale surged deep into the Keighley half where Hitchcox rode a huge tackle, before offloading brilliantly to put Cian Tyrer in for his fourth try in three games.
The game management of Sean Penkywicz allowed Hornets to continue their pressure, and they were able to register their second try on the 23-minute mark.
A superb break from the hooker was followed by a powerful burst from Joe Taira; the Fijian then found Lewis Sheridan, with a great offload, who held off the covering defence to score.
The scrum-half converted his own try to move Hornets into a 10-4 lead.
In a half where both sides demonstrated their promotion credentials, Cougars were the next to score.
After a sustained period of pressure on the Hornets line, Lewis Young was able to pick out Nathan Roebuck in the outside channel who was left with an easy run-in.
Miller's conversion levelled the scores; but a straightforward penalty kick, with the final act of the half, meant that the hosts went in 12-10 up at the break.
The Keighley halfback continued to extend the lead in the second half by kicking two early penalties, the latter of which saw second row Paul Brearley sent to the sin bin.
Initially, Matt Calland's side were undeterred by the yellow card with Ben Killan crossing the whitewash shortly after the restart.
But, referee Liam Rush inflicted further woe on Hornets when Killan then received a yellow card for a high tackle – leaving Hornets with 11 men.
The Cougars pounced on this advantage right away with two tries, in the space of three minutes, through Charlie Graham and Mo Agoro.
A further two tries, in the five minutes that followed, would put the game beyond reach for Hornets.
Miller's well-earned try, and a second for Agoro, meant that the Yorkshire side surged into a 24-point lead – with ten minutes left.
Despite some nice touches in the closing stages from Gregg McNally and Phoenix Laulu-Togaga'e, on debut, Hornets couldn't close the gap and were condemned to an unflattering final score line.
It is a rare defeat in what has been a very promising season for Hornets and Calland's side will be hoping to bounce back when they host Doncaster on Saturday (3pm kick-off).
Cougars: Young, Agoro, Roebuck, Graham, Stephenson, Chisolm, Miller; Everett, Feather, Levy, Santi, Webster, Murrell.
Interchanges: Kesik, Gaylor, Desmond, Bailey.
Tries: Feather (3'), Roebuck (34'), Graham (60'), Agoro (63', 68'), Miller (66').
Goals: Miller, 8/9.
Hornets: McNally, Worrincy, Calland, Hitchcox, Tyrer, Chase, Sheridan; Rogers, Penkywicz, Bennion, Forster, Brearley, Taira.
Interchanges: Moimoi, Killan, Roden, Laulu-Togaga'e.
Tries: Tyrer (18'), Sheridan (23'), Killan (54').
Goals: Sheridan, 2/3.
Half time: 12-10
Referee: Liam Rush
Image by JTSportsMedia1