25 Jun 2022
Hornets bounce back with well-earned victory at Hunslet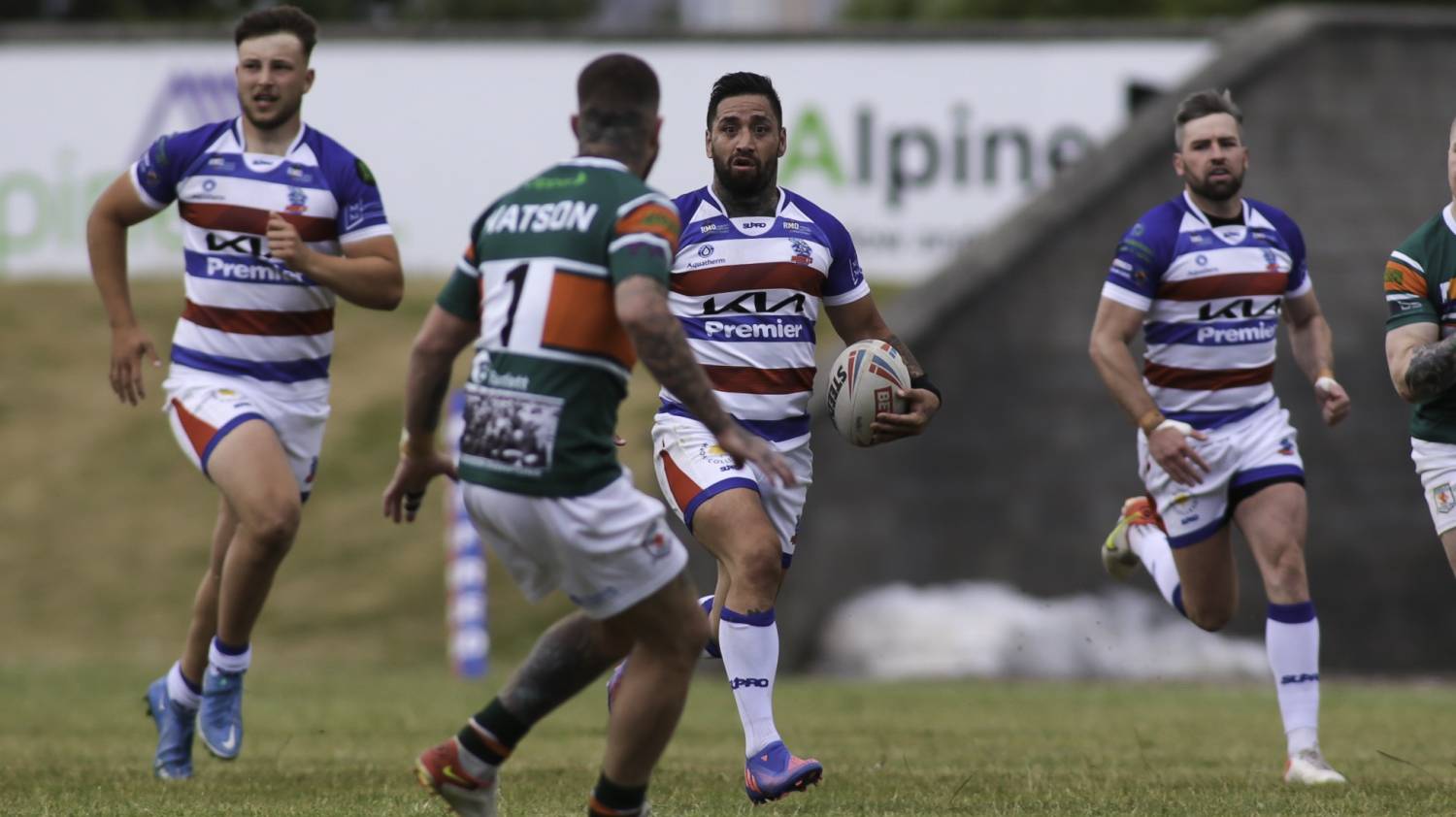 Rochdale Hornets ran in six tries to record a much-needed 32-24 win over Hunslet, at the South Leeds Stadium.
Matt Calland's side controlled the game for large parts and managed to survive the final ten minutes, playing with 12 men, after Paul Brearley was yellow carded.
Having sometimes been slow to start games this season, Hornets raced out the blocks and soon got on the scoresheet – through Gregg McNally.
After just three minutes, the experienced fullback received a lovely, delayed, pass from Rangi Chase and was left with an easy finish for his twelfth try of the season.
Chase was also pivotal in the build-up for Hornets' second try, just four minutes later.
The 2011 Man of Steel found Ben Forster with a classy offload who, in turn, picked out Aiden Roden who raced in to score.
Hornets continued to pile on the pressure, with the help of two superb 40/20s, and were able to register their third try as the opening quarter came to a close.
After more sharp back play, Cobi Green found Rob Worrincy who crossed over for his third try in two games – and sent Hornets surging into a 16-0 lead.
From there, Alan Kilshaw's side grew into the game and began to lay siege to the Hornets try line.
Rochdale weathered the storm well, for several sets, but eventually Hunslet found a way through when Jimmy Watson latched on to a well-weighted grubber kick – on the stroke of half time.
With Hunslet now within two scores, the start of the second half was fiercely contested.
Recognising this, Hornets opted for the kick at goal when awarded a penalty near the Hunslet line – which Sheridan duly converted.
Calland's side were then gifted back possession when the resulting restart went out on the full and, before long, they were in for their fourth try.
Zac Baker, playing for the first time since April, ran a typical hard line to power over from short range and extend Hornets' lead.
Paul Brearley then put daylight between the two teams, when he gathered a deft grubber kick in the in-goal area to score.
However, successive penalties from the restart gave the Yorkshire outfit some threatening field position and Ollie Burton was able to muscle over from close range.
Hornets hit back quickly, with a finely worked try being finished off by centre Cobi Green.
But, Brearley's yellow card - nine minutes from time - meant that Hornets still had work to do to secure the two points.
Hunslet did capitalise on the advantage with tries, from Harvey Hallas and Jack Render, but Hornets were able to hold out and register their eighth league win of the season.
They'll be hoping to build on this when they make the trip to Midlands Hurricanes next Sunday (3pm kick-off).
Hunslet: Watson, Rettie, Doyle, Hallett, Render, Syme, Sweeting; Hallas, Whiteley, O'Hanlon, Jordan-Roberts, Oakley, Walker.
Interchanges: Burton, Anderson, Stableford, Paga.
Tries: Watson (37'), Burton (62'), Hallas (71'), Render (76').
Goals: Sweeting, 4/4.
Hornets: McNally, Worrincy, Calland, Green, Nixon, Chase, Sheridan; Killan, Roden, Bennion, Forster, Baker, Brearley.
Interchanges: Penkywicz, Taira, Aspey, Fowden.
Tries: McNally (3'), Roden (7'), Worrincy (20'), Baker (50'), Brearley (56'), Green (67').
Goals: Sheridan, 4/7
Half time: 6-16
Referee: Liam Rush
Image by Simon Hall