7 Aug 2022
Spirited Hornets come up just shy at Doncaster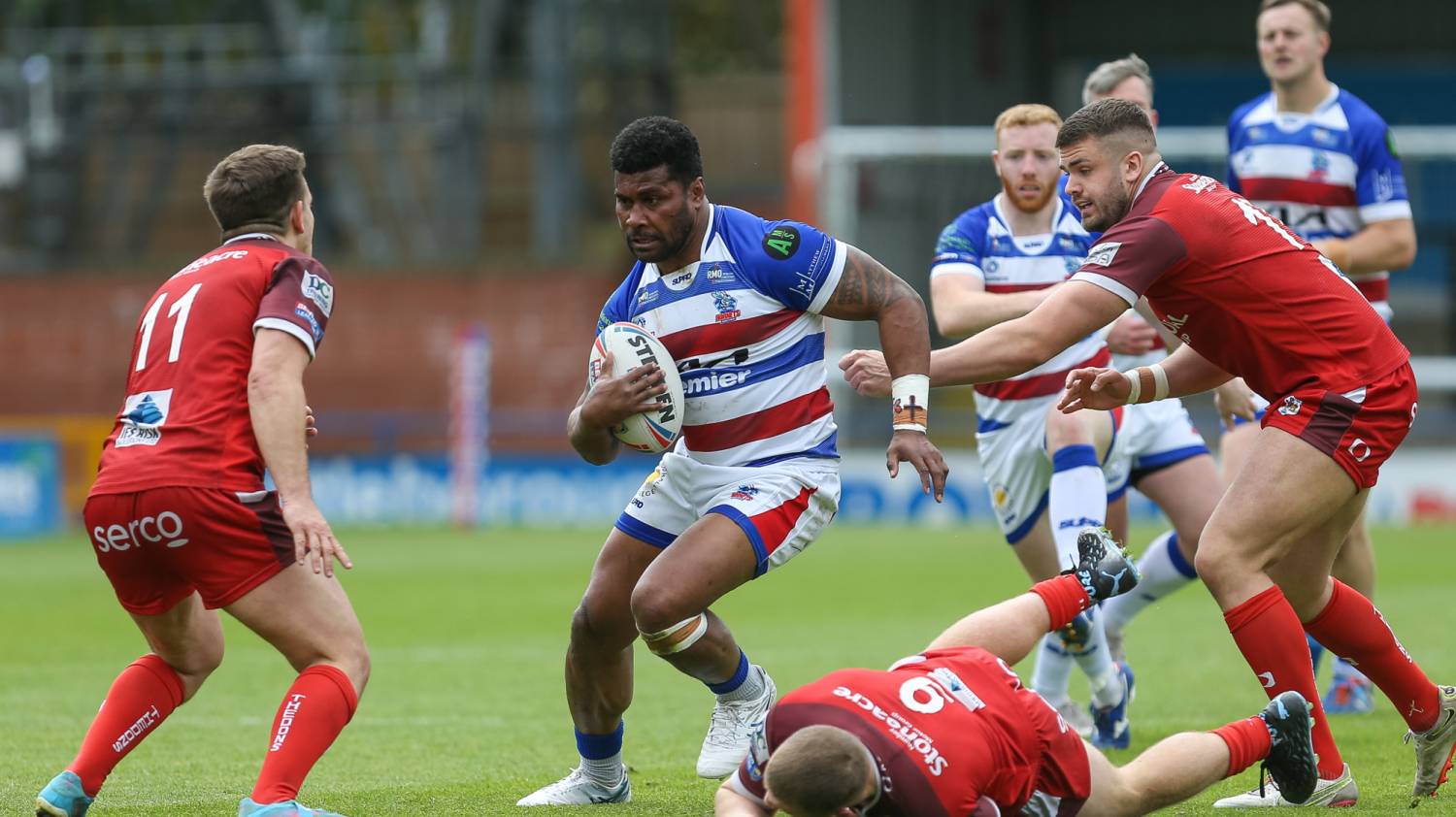 A young Rochdale Hornets side couldn't survive a second half fightback from in-form Doncaster, as they slipped to a narrow 26-20 defeat at the Eco-Power Stadium.
The game marked Hornets' first since the appointment of Gary Thornton as Head Coach, who was without 13 of his squad.
The selection problems facing Hornets meant that 41-year-old Fuifui Moimoi was needed from the start of the game, but the former New Zealand international was a threat right away with some typically colossal carries.
Likewise, Watson Boas caused problems for the Hornets defence from the outset but neither side were able to find a way through until the 19-minute mark.
After a sharp break by hooker Kieran Rush, Hornets worked the ball right to Dan Nixon whose brilliant acrobatics moved Thornton's side into a surprise lead.
Rush would then nail the conversion, from the touchline, before extending the Rochdale lead to eight after The Dons' were penalised for a high tackle.
Things got even better for Hornets, some seven minutes later, when debutant Brad Ward superbly claimed a Rangi Chase high ball and held off the covering defence to dot down.
However, on the stroke of half time, Jason Tali would power his way over for the hosts' first try to inflict the only blemish on Thornton's first half as Head Coach.
Having struggled to get going in the first half, largely due to handling errors, Richard Horne's side began to click into gear when they came out after the break - and they soon had their second try.
After some quick hands, Tali would power his way over the Hornets line once again – in almost an exact replica of his first try.
The two sides then exchanged sets, both of which resulting in goal line drop-outs, before the South Yorkshire outfit moved into the lead for the first time.
A fine break from Boas before picking out Travis Corion, who raced in to score, meant that Doncaster took a two-point lead going into the final quarter.
Boas would then go on to get a thoroughly deserved try of his own, just three minutes later, when he breached the Hornets line and ran in from 20 metres.
But Hornets fought back with a try of their own as Chase darted over from close range to give his side hope, in the closing stages.
However, Hornets failed to deal with the testing restart which saw Doncaster win a scrum just ten metres out.
The hosts were clinical, scoring first phase, after working the ball to the left edge where Corion dived over for his second try.
Connor Robinson's missed conversion meant that Rochdale were still within a score, going into the final few minutes.
But, Thornton's young side could find no way through the Dons' defence despite the best efforts of halfbacks Chase and Cobi Green.
A searching pass from Green to Nixon, in the closing stages, was deemed to have gone forward and the hooter sounded before the scrum could be taken.
It is the first time this season that Hornets have suffered back-to-back league defeats but, on a day where four players made their Rochdale debut, they can take great pride in the determination that was shown throughout the game.
They'll now be hoping they can translate this into a win on Sunday when Cornwall make the long trip up to Rochdale (1pm kick-off).
Doncaster: Taulapapa, Halliday, Storey, Tali, Corion, Boas, Robinson; Holdstock, Burns; Kenga, Ollett-Hobson, Smeaton, McConnell
Interchanges: Roberts, Ruan, Petersen, Fella.
Tries: Tali (36', 51'), Corion (59', 72'), Boas (62').
Goals: Robinson, 3/5.
Hornets: Sheridan, Nixon, Calland, Ward, Harrison, Chase, Green; Moimoi, Rush, Bennion, Parnaby, Forster, Aspey.
Interchanges: Taira, Killan, Metcalfe, Birtle.
Tries: Nixon (19'), Ward (32'), Chase (69').
Goals: Rush, 4/4.
Half-time: 6-14
Referee: Kevin Moore