28 Aug 2022
Hornets run riot against Raiders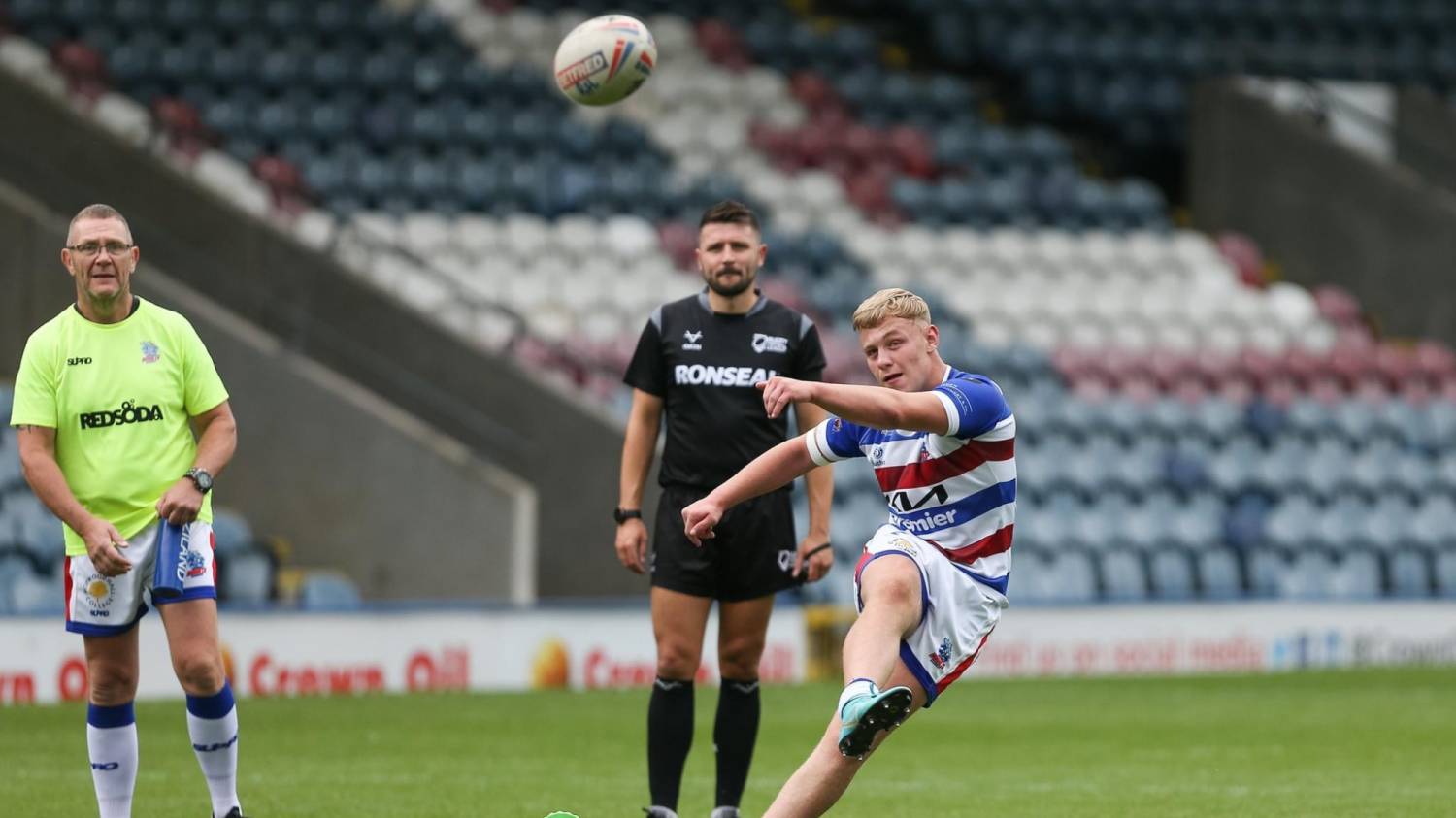 Rochdale Hornets ran in a staggering 19 tries on their way to a record-breaking 102-4 victory, over West Wales Raiders.
Hornets were ruthless throughout their penultimate home game of the season with Gregg McNally, Cian Tyrer and Jy Hitchcox all scoring hat-tricks.
And, Gary Thornton's side wasted little time in getting into their stride with Hitchcox getting his first try with little more than two minutes on the clock.
Tyrer, taking on goal-kicking duties for the first time this season, made no mistake with his first of many conversions.
The winger would then play a key role in Rochdale's second try as he made great ground to field a West Wales kick, before finding Dan Nixon who sped in brilliantly – from halfway – to cross the whitewash.
As the opening quarter came to a close, Tyrer got a try of his own.
After a fine break from McNally the fullback worked the ball to the right edge, via Ben Calland, where the former Newcastle Thunder man raced in for his first score of the afternoon.
The visitors would then hit back with a well-taken try courtesy of hooker Shane Lee, but it was to be their only score on an afternoon to forget at the Crown Oil Arena.
Some more sharp backs play would then see McNally get his first try, after some great link-up play between halfbacks Cobi Green and Rangi Chase.
Hornets would then turn the screw in the final ten minutes of the half, scoring four quick-fire tries through Aiden Roden, Tyrer, Chase and Rob Worrincy to pull out a 42-4 lead at the break.
Three more well-worked tries, in the ten minutes that followed half time, saw Roden, Hitchcox and McNally all double their tallies.
At this point, the Rochdale momentum was seemingly unstoppable and Tyrer's fine display of goal-kicking was helping to put even more daylight between the two sides.
Captain McNally would then become the first player to complete his hat-trick.
Having had a try disallowed just moments before, the Ireland international could not be denied when he broke the line and exchanged passes with Hitchcox before going in under the posts.
Tyrer would follow suit, some three minutes later, after Nixon picked out the in-form winger to score in the right-hand corner once again.
While Hornets' backs were carving their way through the Raiders defence at will, the forwards were also leaving their mark.
Connor Aspey got his first try by running a great supporting line, off a typically powerful Gavin Bennion break.
This was followed by Ben Killan getting his second try in as many games, after getting on the end of a well-timed pass from Hitchcox.
Three minutes later, Hitchcox would opt to go on his own – after another break down the left edge – and was duly rewarded with his third try of the game.
With the score now 84-4, and eight minutes still left to play, attentions turned to a potential century.
Warrington Wolves loanee Dan Brewin would get the first of the three scores required, after a speedy break from midfield which also brought up his first try for the club.
Again, Rochdale found success down the left edge moments later as Worrincy scored his second of the afternoon in clinical fashion.
Hooker Aspey would then become the sixth Hornets player to score multiple tries on the day and, in doing so, bought up the century for his team.
Tyrer slotted the conversion with the final act of the game to take his tally to 38 points – a club record by an individual in a league match.
The 102 points scored overall is also a record for Hornets in league rugby, as is the 98-point winning margin.
After a historic win, attention now turns to the final game of the regular season next Sunday where Thornton's side play host to champions Keighley Cougars – who are in search of a 20th straight win (3pm kick-off).
Hornets: McNally, Worrincy, Hitchcox, Nixon, Tyrer, Chase, Green; Bennion, Roden, Killan, Forster, Calland, Whitehead.
Interchanges: Taira, Aspey, Metcalfe, Brewin.
Tries: Hitchcox (3', 46', 71'), Nixon (13'), Tyrer (20', 34', 61'), McNally (28', 49', 58'), Roden (31', 44'), Chase (37'), Worrincy (40', 77'), Aspey (64', 78'), Killan (68'), Brewin (74')
Goals: Tyrer, 13/19
Raiders: O'Sullivan, Agar, Holden, Pridgeon, Wilde, Merrett, Jones; Bodham, Lee, Boots, Allen, Harries, Burke.
Interchanges: Cane, Whitlock, Moyle, Jackson.
Tries: Lee (23')
Goals: Lee, 0/1
Half time: 42-4
Referee: Bradley Milligan
Image by JMSportPix